Chief's Bio
---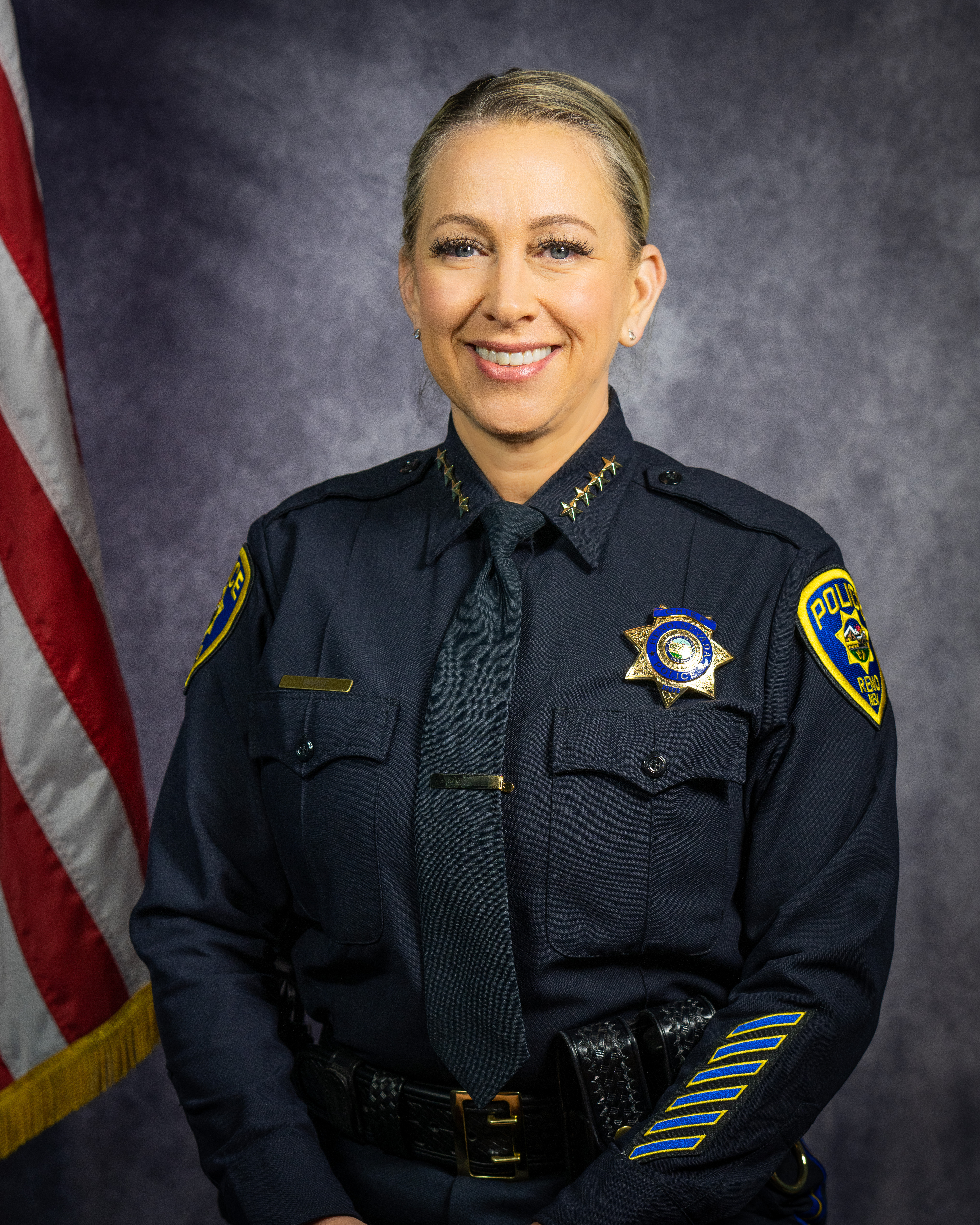 Chief Kathryn Nance
All Divisions
askrpd@reno.gov
Chief Kathryn Nance is the 21st Chief of Police for the Reno Police Department. She began her career in law enforcement in 1996 with the Stockton Police Department. During her career, she rose to the rank of Deputy Chief before being selected as Reno's Chief of Police, in February 2023.
Kathryn Nance was a 25-year veteran of the Stockton Police Department. In 2020, she promoted to the rank of Deputy Chief. In this position, she oversaw the Logistics Bureau, and Operations, which included Administrative Services, Technical Services, Fiscal Affairs, Planning, Patrol, and Investigations. Additionally, she oversaw the department's budget of $53 million, the department's significant involvement in the citywide Employee Resource Planning (ERP) project, the migration to the Tyler Munis system, and the department's response to information releases, public records requests, and closely involved with intelligence and data-led policing and Operation Ceasefire.
Promoted to Captain in 2019, she commanded the Special Operations Division, overseeing the Traffic Section, homelessness response, community engagement, Neighborhood Services, and the Strategic Community Officers. During the COVID-19 pandemic, she managed the department's COVID response to the community and businesses. Kathryn collaborated with other city departments to ensure the most up-to-date information was distributed, and developed the department's response plan to compliance.
While rising through the ranks, Kathryn focused on investigating major crimes, primarily homicides and gang violence, and serving as the department expert for gang and group violence, search warrants, and electronic surveillance investigations. As a Lieutenant, Kathryn worked in conjunction with other city departments and community stakeholders to develop the city's cannabis policy, including an equitable workforce component. She oversaw the department's Task Forces, working in partnership with local jurisdictions and other state and federal law enforcement agencies.
After her promotion to Sergeant, Kathryn was selected to supervise the newly created Community Response Team. During her time on the team, she integrated Procedural Justice into the team's daily interactions with the community while working on violence reduction strategies. In addition, she led other proactive teams such as the Gang Street Enforcement Team and the Community Corrections Partnership Task Force.
As an Officer, Kathryn worked as the lead investigator in the Gang Violence Suppression, Robbery-Homicide Units, and as a Field Training Officer.
Chief Nance has made transparency and community involvement her priority throughout her career. Kathryn's bond to Reno and the community as a whole is at the forefront of her decisions and how she leads as the Chief of the Reno Police Department. Kathryn and her husband, James, have a blended family with four adult children, and their grandchildren. They love the Reno area and being integrated with the community.