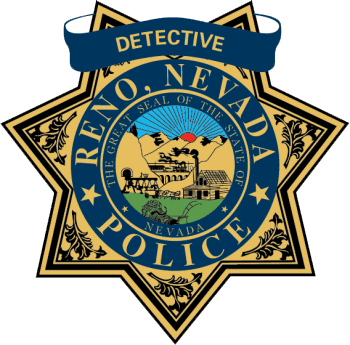 Mission Statement
Our mission in the Detective Division is to dedicate ourselves to providing complete and thorough investigations while protecting victims' rights.
The primary objective of the Detective Division of the Reno Police Department is to reduce the rate of crime by arresting those responsible for committing crimes in our community. The Division is made up of the following units that each investigate specific areas of crime: Sex Crimes Unit, Robbery/Homicide Unit, Financial/Computer Crimes Unit, Burglary Unit, and the Family Crimes Unit.
Our promise to our community and our victims include:
We will treat you with respect, compassion and dignity
We will not judge you based on your lifestyle choices, or any substance abuse or mental health issues that you may have
We will provide services to encourage, empower and support healing and recovery
We will inform you of your rights as a victim and to remain in communication with you during the course of our investigation
Sex Crimes/Child Abuse Unit
775-657-4601
The Sex Crimes/Child Abuse Unit investigates sexually based crimes against adults and juveniles, child abuse, neglect and endangerment. Specialized members of the unit are dedicated to providing the utmost in professional investigative services to the victims of these crimes in a sensitive and compassionate manner with respect for the rights of both the victims and those accused. Detectives assigned to the Sex Crimes/Child Abuse Unit are also members of the Washoe County Child Advocacy Center's multidisciplinary team. By using this team approach when investigating crimes against children, we can minimize additional trauma to the child victim.
Robbery/Homicide Unit
775-334-2188
The responsibilities of this unit are to investigate all major crimes against persons to include: robbery, battery and assault with a deadly weapon and with substantial bodily harm, murders, manslaughter (non-traffic-related), questionable deaths, mayhem, kidnapping, and major cold cases. The types of crimes this unit investigates can be traumatic and life altering for the victim and victim's family. The Robbery/Homicide Unit is dedicated to these individuals and investigates each case thoroughly and in a timely manner to help bring closure to the people involved. A main goal of the Robbery/Homicide Unit is to improve the quality of life for the citizens of Reno by arresting and convicting the dangerous felons responsible for these crimes.
Misdemeanor/Family Crimes Unit
775-334-2134
The Misdemeanor/Family Crimes Unit is committed to the aggressive prosecution of misdemeanor crimes committed within the City of Reno. The Unit works to impact public policy, increase public awareness, and develop community-based responses to domestic violence to effect an overall reduction of other criminal behavior. The Misdemeanor/Family Crimes Unit works closely with the department's victim advocates to provide service and support to victims. The Detectives strive to maintain the family as a unit, while effectively working to break the cycle of family violence.
Missing Persons Unit
775-321-8372
The Reno Police Department Missing Persons Unit is responsible for assisting local police agencies in coordinating, investigating and responding to reporting parties on cases involving missing persons, runaway children, and unidentified living or deceased individuals. Please visit the Cold Cases / Missing Persons web page for additional information. if you have information on the whereabouts of any of these individuals, please call (775) 321-8372 or email the missing persons division at missp@reno.gov. If you believe that someone you know is missing, please contact the reno police department at (775) 334-cops (2677) to initiate a missing persons report.
Burglary Unit
775-334-2144
The Burglary Unit investigates and strives to identify and arrest burglary suspects and recover property taken in burglaries and thefts of various types, including both commercial and residential burglary crimes as well as general theft, larceny and auto theft. Click here for the reporting guidelines for pawn shops and second hand stores.
Financial/Computer Crimes Unit
775-334-2107
The Financial/Computer Crimes Unit is charged with the duties of investigating a wide variety of major white-collar crimes including: identity theft, fraud, embezzlement, forgery, computer crime, as well as check and credit card offenses. They also investigate elder finance abuse. The Financial Crimes/Computer Unit works closely with federal, state, and local law enforcement agencies, as well as banks, credit card companies, and other financial institutions.
Click here for Fraud Reduction Tips
Click here for Fraud Crime Cheat Sheet
Click here for Identity Theft Packet